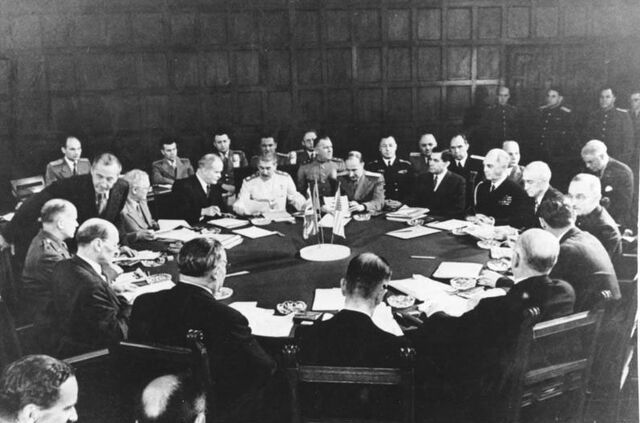 Potsdam Conference
Edit
"With war in Europe finally over, the victorious Allies have begun redrawing the map of Europe, in the hopes of a brighter and more peaceful future ahead for all of mankind."
The 1936 Summer Olympics
Edit
"Following a successful hosting of the Olympic Games, the German Reich has increased its standing as well as its influence in Europe, even as its opponents too also increase in number, aghast at the seemingly irresistable rise of totalitarian rule and dictatorship."
Germany elects to hold Games
Sanctions on Italy!
Edit
Sanctions on Japan!
Edit
Anschluss!
Edit
March on Rome!
Edit
Nazis seize control!
Edit
Japanese-Soviet Convention signed!
Edit
Munich Treaty signed!
Edit
Molotov-Ribbentrop Treaty signed!
Edit
"Nothing could be more absurd than seeing two sworn enemies signing a pact of non-aggression with each other, but that is exactly what happened. For reasons inscrutable to the rest of the world, Germany has now chosen to ally itself to that scourge of mankind, Stalin's Soviet Union."
Treaty of Lausanne!
Edit
"With the crossing of the Milne Line by patriot Turkish forces, the Greek occupation of Turkey has come to an end, and now Turkey is safe and united for now, but the future of the Balkans and the Middle East still remains in doubt."
Decolonisation!
Edit
"Today is a great day for the coloured peoples of the earth! the West, weary of war and misery, have finally understood the error of their ways and have decided to commence the evacuation of their vast extra-European empires. A new chapter in human history awaits."
File history
Click on a date/time to view the file as it appeared at that time.
Metadata