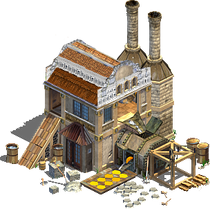 The Foundry is an economic building which increases the Metal output of all Mines within the Economic radius of its host city, and is also involved in the construction of specialised armoured vehicles - namely, self-propelled guns, flame tanks and anti-aircraft batteries as well as tankettes (for Italy). Two lines of technologies can be researched here.
Notes:
Level 3 Science and Level 1 Commerce is required to construct a Foundry
Unlike the Armoury and the Barracks, the Foundry is captured along with its home city.
The engineering savvy of the Germans and Dutch means that they can build Foundries without requiring prerequisite research.
The Dutch start off most games with a Foundry in their first city, meaning that they have greater access to metal accumulation much faster than others
The Foundry hosts vital technologies which are used in the construction of the Heavy Engineering Facility, which in turn provides the production of armoured vehicles and technologies for advanced industrial products.
Units created
Edit
Fighting vehicles
Edit
(The Italian and Soviet tankette line)
Flame tanks
Edit
Anti-aircraft support
Edit
Tank destroyers
Edit
Armoured truck
Edit
Metallurgy
Edit
Stainless steel

Edit
"Angry grew the hardened iron, / Broke the vow that he had taken [...] / Caused the blood to flow in streamlets / From the wounds of man and hero." — Elias Lönröt, Kalevala cycle, trans Crawford
Required for advanced submarine, battle cruiser and battleship projects.
| Cost | Requirements | Leads to |
| --- | --- | --- |
| | | |
Shell process

Edit
"Iron sharpeneth iron; so a man sharpeneth the countenance of his friend." — Proverbs (27:17)
Required for Super Battleship
| Cost | Requirements | Leads to |
| --- | --- | --- |
| | | |
Superalloys

Edit
"When pieces of bronze or gold or iron break, the metal-smith welds them together again in the fire, and the bond is established." — Sri Guru Granth Sahib
| Cost | Requirements | Leads to |
| --- | --- | --- |
| | | |
Standardisation

Edit
"Make large coats of mail and measure their links well, for surely I see the things you do." — the Qur'an (34:10-11)
You suffer 25% less attrition damage while in enemy territory and none while not moving or fighting.
Ships, Siege and Vehicles production speed increased,
Supply wagon radius, Speed and Hit points increased to level 1.
| Cost | Requirements | Leads to |
| --- | --- | --- |
| | | |
Lease-lend

Edit
"They are all nothing but money-grubbers, living on the profits of this war. No blessing can come of that." — Adolf Hitler
(With Level 2 Military (Homeland Security)) unlocks access to Heavy Engineering Depot
| Cost | Requirements | Leads to |
| --- | --- | --- |
| | | |
War economy

Edit
"I am not going to kill a man because he won't let us rob him." "Then go back to your mother and send for a man who wants to win." — David Gemmell
| Cost | Requirements | Leads to |
| --- | --- | --- |
| | | |
Ad blocker interference detected!
Wikia is a free-to-use site that makes money from advertising. We have a modified experience for viewers using ad blockers

Wikia is not accessible if you've made further modifications. Remove the custom ad blocker rule(s) and the page will load as expected.